model: TeleR-1-P

Teleopto receiver 1g / pulse

size: 13 x 18 x 7mm
weight (approx.): 1.4g
standby time: 17h
---
model: TeleR-1-2P

Teleopto receiver 1g / 2ch pulse

size: 13 x 18 x 7mm
weight (approx.): 1.5g
standby time: 17h

---
model: TeleR-2-P

Teleopto receiver 2g / pulse

size: 16 x 23 x 7mm
weight (approx.): 2.0g
standby time: 28h
---
model: TeleR-2-2P

Teleopto receiver 2g / 2ch pulse

size: 16 x 23 x 7mm
weight (approx.): 2.1g
standby time: 28h
---
model: TeleR-3-P

Teleopto receiver 3g / pulse

size: 17 x 24 x 8mm
weight (approx.): 3.0g
standby time: 49h
---
model: TeleR-3-2P

Teleopto receiver 3g / 2ch pulse

size: 17 x 24 x 8mm
weight (approx.): 3.1g
standby time: 49h
---
LED cannula

model: TeleLC-c-l-d
Single cannula. Hard enough for insertion without a guide.
LED probe

model: TeleLP-c
LED without cannula.For brain surface stimulation.
---
Two color LED cannula

model: TeleLCT-c/c-l
Two 250?m cannulas are bundled like one cannula.
Bilateral LED cannula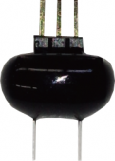 model: TeleLCD-c-l-d-i
For bilateral stimulation. Specify interval.
TWO COLOR LED Probe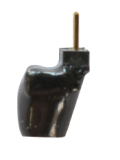 model: TeleLCD-c/c
Two color version of the LED probe.
LED Ferrule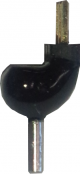 model: TeleLF-c-d-f
Universal ferrule for connection with ferruled cannula. (e.g. from Doric Lenses / Thorlabs)
Note: how to identify specifications from the model number:
c: color. B (blue 470nm) / G (green 525nm) / Y (yellow 590nm) / R (red 630nm) ... for other colors please contact us.
l: Length. Specify in mm. d: Fiber diameter. 250 (?250?m) / 500 (?500?m) / 750 (?750nm)
i: Fiber interval. Specify in mm.
f: Ferrule OD (LED ferrule only). 1.25mm / 2.5mm
-Glass: Glass fiber instead of the regular plastic fiber. Only available for ?250?m fiber.
Stimulator for optogenetics
model: STOmk-2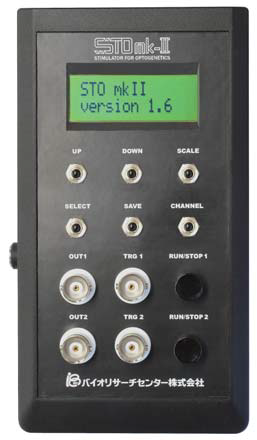 Specification
| | |
| --- | --- |
| Stim Channel | 2ch (Independent) |
| Trigger In | 2ch (Independent) |
| Parameter | |
| Delay | 100μs - 9990s |
| Width | 100μs - 9990s |
| Interval | 100μs - 9990s |
| Pulse number | 1 - 999 |
| Repeat interval | 100μs - 9990s |
| Repeat number | 1 - 999 |
| Amplitude | 0.0 - 5.0V |
| Memory | Yes |
| Endless Repeat | Yes |
| Power | DC5V |
STO mk-II is a pulse generator developed for optogenetics.
By connecting the STO mk-II to TRG port on the Teleopto Remote Controller via a trigger cable, you can control the timing of light stimulation by TTL pulses. Pulses are defined by the parameters illustrated below.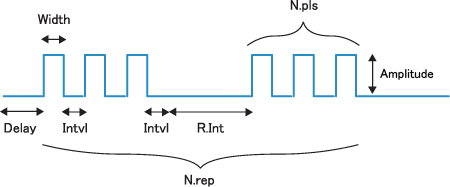 model: LPM-100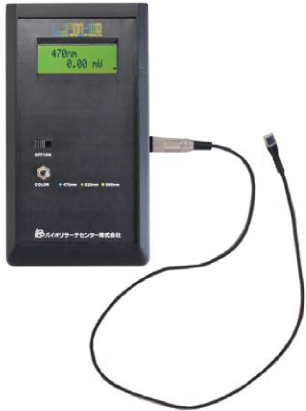 Specification
Wavelength
470nm (blue)
590nm (Yellow)
525nm (green)
Display
Liquid crystal
Resolution
0.01mW
Power
2x AA batteries
In optogenetics, it is important to measure the light power at the tip of optic fiber cannula, and the LPM-100 is best suited for this purpose. LPM-100 covers three colors, blue, green and yellow which are commonly used in optogenetics. Easy to use, mobilable by the battery-powered design.
model:TeleHub6
By connecting the TeleHub6 to the EXT port on the Teleopto Remote controller, you can use up to 6 infrared emitters at the same time so that you can increase the throughput of your experiment. This device is also useful if you use a maze with many branches or high walls which block infrared signal and prevent a good transmission. By putting several infrared emitters at several positions, it ensures more stable light stimulation.


Note: All infrared emitters send a signal at the same timing.