Fiber photometry is a powerful technique to detect calcium signal from specific neuron in awake animals using calcium indicator protein represented by GCaMP. In freely moving condition, the long optic fiber attached to the head of the animal can interfere with experimental setup, therefore can be a limitation factor of your project.
Our innovative new product, TeleFipho, includes all required components for fiber photometry - optic fiber, filter cube, light source, photo detector - and also wireless transmission circuit, in the very smal 3g body. TeleFipho definitely will not block free behavior of your animals, enabling novel experimental approach using fiber photometry.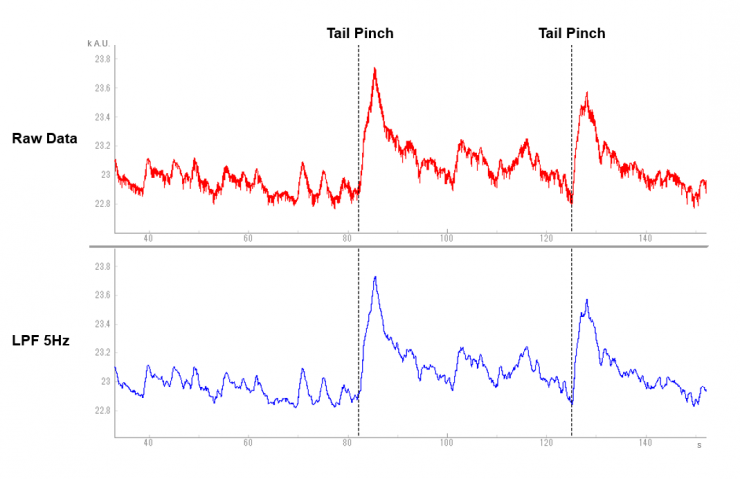 Stress induced GCaMP signal from orexin neuron in mouse hypothalamus. By courtesy of Dr. Daisuke Ono in Akihiro Yamanaka Lab, Nagoya University.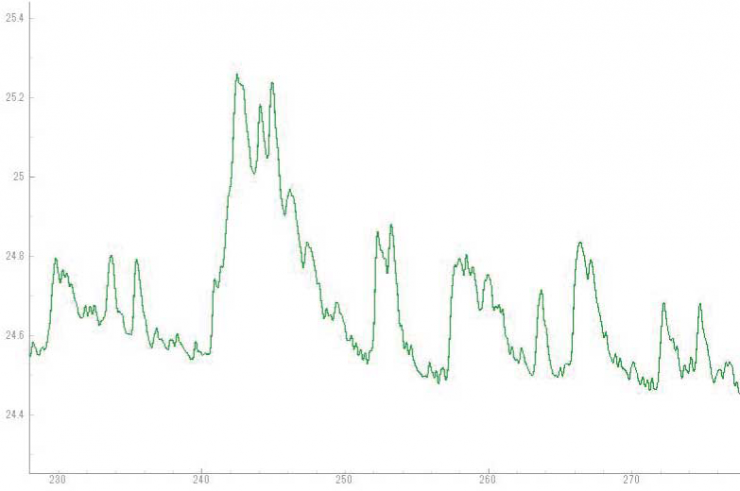 Activity synchronized GCaMP signal in mouse dorsal striatum. LPF 5Hz is applied. By courtesy of Dr. Keitaro Yoshida in Kenji Tanaka Lab, Keio Univeristy.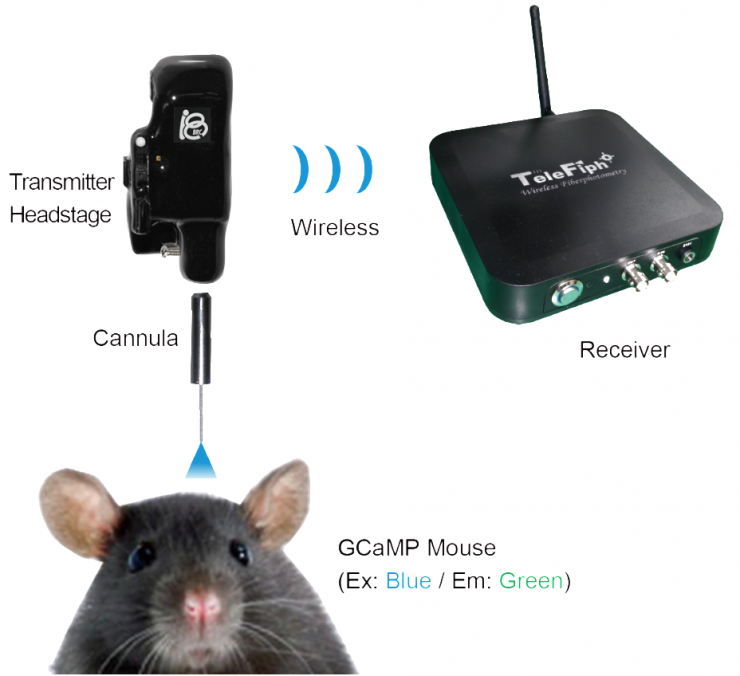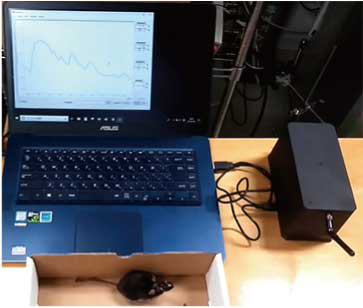 Simple setup - headstage, receiver and software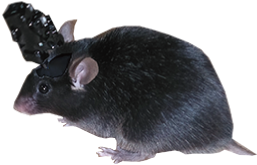 Small headstage, suitable for mice
Features
World first commercial wireless fiber photometry
Small headstage / good for mice, rats, marmosets, etc.

Standard 2.5mm ferrule cannula

Rechargable by a dedicated charger

Adjustable excitation LED power
Adjustable signal offset

For GCaMP or GFP-like indicators
Specification
Headstage weight
3g
Headstage size
15 x 15 x 22 mm
Excitation wavelength
LED peak 470nm, Filter band 445~490nm
Emission wavelength
Filter band 500~550nm
Excitation power
10~300µW@400µm Fiber end (Adjustable)
Sampling rate
100Hz
AD resolution
16bit
Photo sensor
Photo diode
Gain
1010 V/A
Battery life
2hours@Excitation power 30µW
Transmission band
2.4GHz
Transmission distance
2m
Power
Battery powered, rechargeable
Receiver I/O
1x Photometry analog out, 1x Geneal purpose analog In (0~5V)
PC Interface
USB / TeleFipho software (for Windows10)
Cannula
core: 400µm/NA0.39, Cladding: 425µm, Ferrule: 2.5mm
core: 200µm/NA0.39, Cladding: 225µm, Ferrule: 2.5mm
core: 600µm/NA0.39, Cladding: 630µm, Ferrule: 2.5mm

TeleFipho Standard Set consists of the following items:
TeleFiT 1x TeleFipho Transmitter Headstage
TeleFiR 1x TeleFipho Receiver
TeleFiCharger 1x TeleFipho Charger
TeleFiC-l-d (※) 3x TeleFipho Cannula
TeleFiTool 1x Insertion Tool for TeleFipho
TeleFiDummy 1x TeleFipho Dummy Headstage
1x TeleFipho software installer
1x pMAT Converter software installer
(※) Please specify cannula length and fiber diameters. 5mm length & 400µm core cannula will come without specifying.
TeleFiC-l-d l: length in mm (resolution 0.1mm) / d: core diameter in µm (400 or 200)
e.g. Cannula length 3.5mm & core 400µm: TeleFiC-3.5-400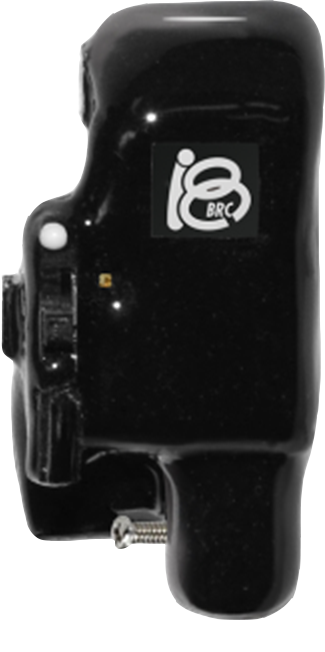 Transmitter Headstage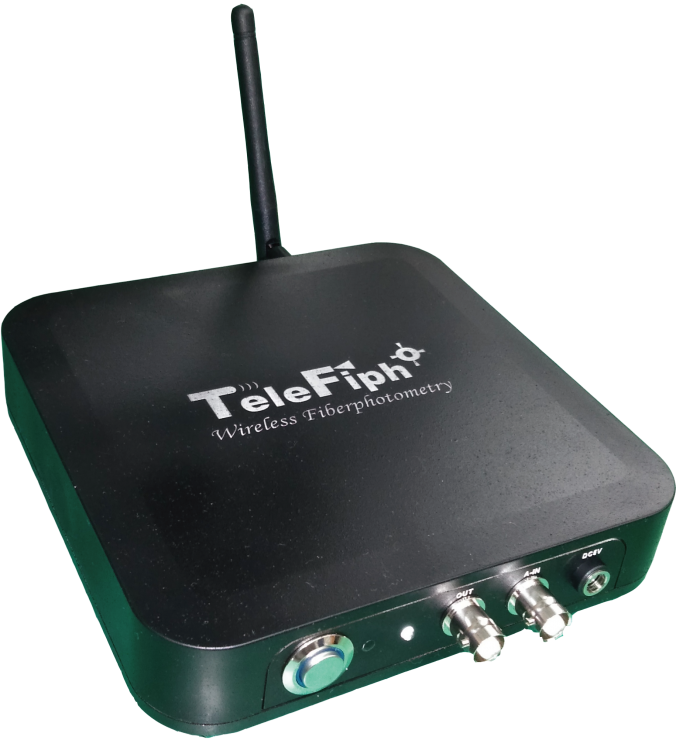 Receiver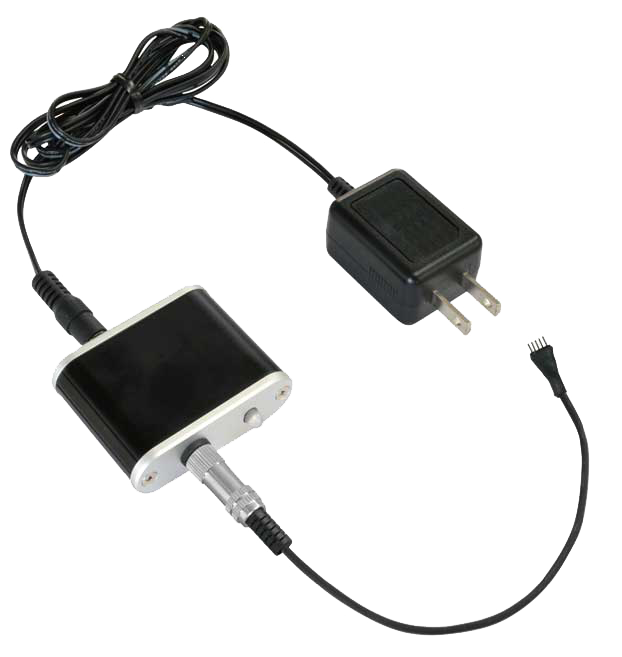 Charger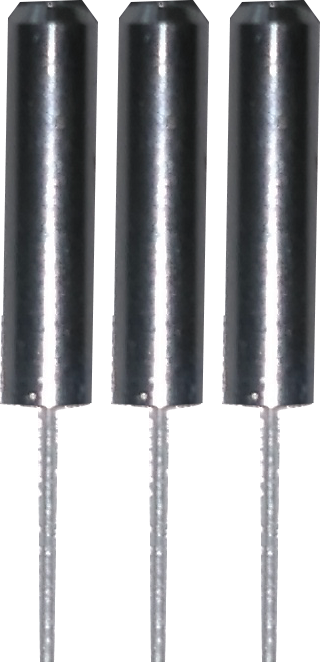 Cannula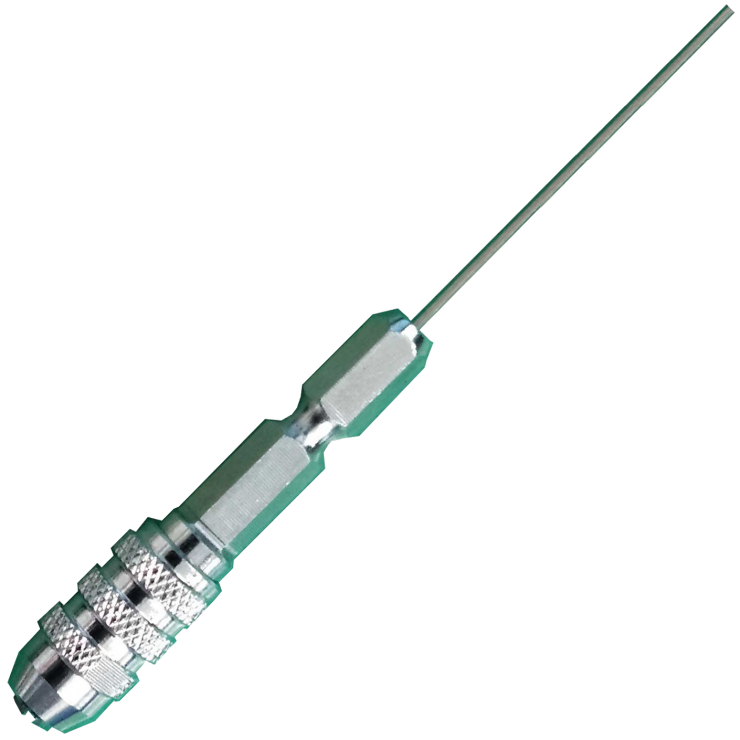 Insertion Tool

Dummy Headstage
Stand alone / External recorder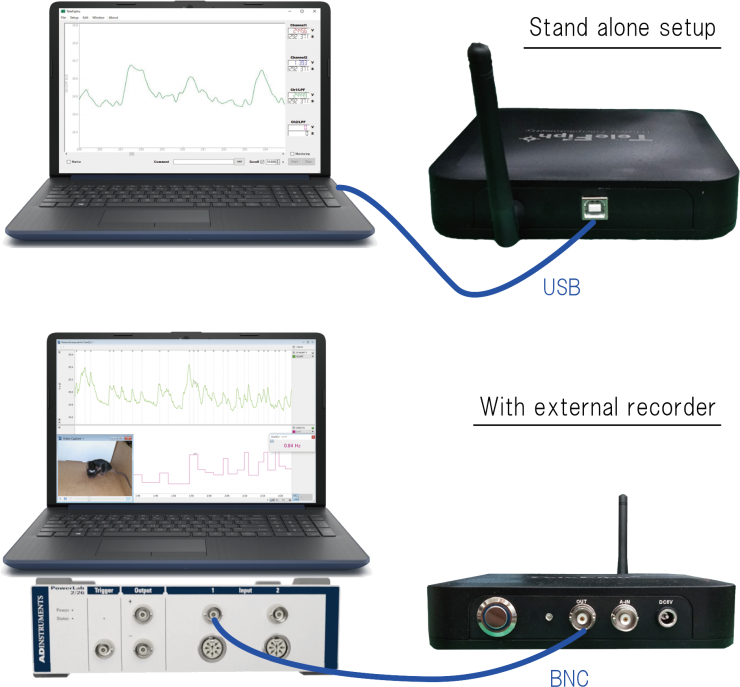 TeleFipho receiver can be directly connected to PC via USB for fiber photometry data recording in TeleFipho software. TeleFipho software is good enough for simple raw data / low pass filtered data recording.
Data can be directly read from Matlab / Octave, or can be exported to ASCII format.
We recommend the open-source pMAT software for delta F/F and PETH and analysis, developed by Dr. David Barker in Rutgers University. For more details please see the following support page:
Analyze TeleFipho Data in pMAT software
For more complicated online analysis and / or parallel recording of other physiological data, you can access photometry data as analog signal via BNC on the front panel of TeleFipho receiver so that you can connect external data recording system (e.g. PowerLab from ADI).

| Model | Description |
| --- | --- |
| TeleFipho-set | TeleFipho Standard Set |
| TeleFiT | TeleFipho Transmitter Headstage |
| TeleFiR | TeleFipho Receiver |
| TeleFiCharger | TeleFipho Charger |
| TeleFiC-l-d | TeleFipho Cannula |
| TeleFiTool | Insertion Tool for TeleFipho |
| TeleFiDummy | TeleFipho Dummy Headstage |