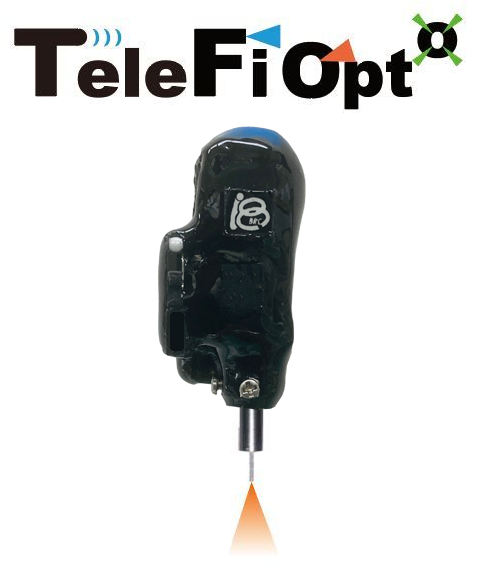 Wireless Photometry & Optogenetics
TeleFiOpto can perform both fiber photometry recording and optogenetic stimulation simultaneously in wireless manner. Before the fiber cannulation, both GFP-like dynamic indicator (GCaMP, dLight, GRAB-DA, etc.) and yellow-red color sensitive opsins (NpHR, Chrimson, Jaws, etc.) should be expressed by injecting both viruses at the target position, then fiber cannula should be implanted aiming at the target. Then you can optically record and stimulate the target simultaneously
TeleFiOpto is a fusion of our established two technologies, Teleopto and TeleFipho. That is, photometry data is sent to the TeleFipho receiver by 2.4GHz band, and stimulation timing is sent to the headstage by infrared signal. If you already have Teleopto or TeleFipho, you can establish TeleFiOpto system just by adding some components, so it is fairly more economical than newly buying a complete photometry & optogenetics system.
* Diameter 600um cannula is recommended. Diameter 200um is not recommended.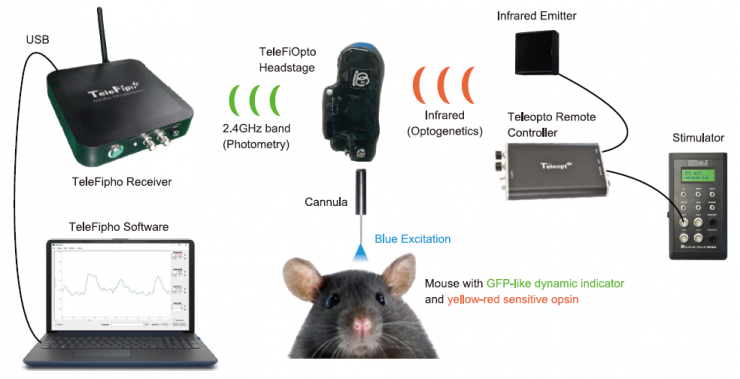 GCaMP signal evoked by rsChRmine activation
Data is provided by the courtesy of Dr. Masanori Nomoto in Toyama University, Inokuchi lab.

TeleFiOpto cannula (TeleFiC-3.0-600) is inserted aiming at mPFC in a mouse expressing both GCaMP and rsChRmine in the same subset of neurons. GCaMP recording and optogenetic stimulation are performed by TeleFiOpto system. rsChRmine is red-shifted channelrhodopsin evokes neuronal excitation.

Figure 1: Histological observation of GCaMP and rsChRmine expression in a fluorescence microscope. We confirmed both GCaMP and rsChRmine were well expressed in the same cell subset under the implanted cannula. This histology has been done after the recording session.
Figure 2: Raw data in a whole recording session. The mouse is freely moving until the anesthetization time point of 1376 second. 10 uW blue excitation light was used before 809 second time point. The excitation light was changed to 30 uW at 809 second, then offset was adjusted in range at 823 second. The mouse was lightly anesthetized by 0.5% Isoflurane at 1376 second, then depression of basal fluorescence and suppression of spontaneous neuronal activity were observed. Time points for the following figures are marked by colored squares.
TeleFiOpto-set contents:
TeleFiOpHS 1x TeleFiOpto Headstage
TeleFiR 1x TeleFipho Receiver
TeleFiCharger 1x TeleFipho Charger
TeleFiC-l-d 3x TeleFipho Cannula
TeleFiTool 1x Insertion Tool
TeleFiDummy 1x Dummy Headstage
1x TeleFipho Software

1x pMAT Converter Software
TeleRemocon 1x Teleopto Remote Controller
TeleEmitter 1x Infrared Emitter
STOmk-2 1x Stimulator for Optogenetics
TeleFiOpto-Opac (Opto pack) contents:
TeleFiOpHS 1x TeleFiOpto Headstage
TeleRemocon 1x Teleopto Remote Controller
TeleEmitter 1x Infrared Emitter
STOmk-2 1x Stimulator for Optogenetics
TeleFiOpto-Fpac (Fipho pack) contents:
TeleFiOpHS 1x TeleFiOpto Headstage
TeleFiR 1x TeleFipho Receiver
TeleFiCharger 1x TeleFipho Charger
TeleFiC-l-d 3x TeleFipho Cannula
TeleFiTool 1x Insertion Tool
TeleFiDummy 1x Dummy Headstage
1x TeleFipho Software
1x pMAT Converter Software

| Model | Descriptions |
| --- | --- |
| TeleFiOpto-set | TeleFiOpto complete set |
| TeleFiOpto-Opac | TeleFiOpto Opto pack |
| TeleFiOpto-Fpac | TeleFiOpto Fipho pack |
| TeleFiOpHS | TeleFiOpto Headstage |